Rules and Regulations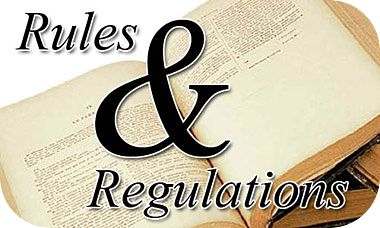 ATTENDENCE AND AVAILING LEAVE:
1. Students are strictly advised to follow the rules and regulations of the college.
2. Students who have a minimum of 85% attendance in every subject are eligible to appear for Semester Examinations.
3. Attendance shall be marked at the beginning of every period. A student who is not in the class when the attendance is taken shall be marked absent.
4. Students absenting for any one period in a session (excepting the first of the FN session) will be marked absent for that session (Forenoon or Afternoon).
5. If a student wants to avail leave he/ she should submit the leave form in the prescribed format and get it approved by faculty advisor, HOD and the Principal well in advance.
6. In case of absence due to unforeseen circumstances and illness, leave letters can be submitted through messengers or on the day of the student's return to the college. Otherwise leave will not be sanctioned.
7. The name of the student who is absent for 3 days continuously without prior approval of leave will be removed from the nominal roll.
8. Only students who earn 90% of attendance shall be eligible for scholarships.
9. At the stroke of the first bell, students should occupy their seats in the class and get ready for their lectures.
10. Students entering the college after the assembly will present themselves to the Class Advisor / HOD and then sign in the late Register.
11. No student shall be allowed to leave the class room, without the permission of the staff. Students should avoid walking on the corridors and college campus during working hours.
12. Students are expected to walk silently and in an orderly manner while moving from one room to another.

General Code of Conduct:
1. Students should maintain discipline and decorum both in the college and hostel.
2. Students must show due respect to the authorities, the Principal and the staff and should greet them on the occasion of their first meeting for the day. Disobedience and rude behavior of any kind will be severely dealt with.
3. Students should avoid doing anything by word or deed that may disturb the unity and harmony of the College.
4. Students are strictly forbidden from gathering in groups, in conducting unauthorized meetings, displaying unapproved notices and engaging themselves in any political or other non-academic activities.
5. Students are expected to maintain the premises of the College tidy, clean and healthy and abstain from disfiguring the walls, desks or benches by sticking notices or scribbling and other similar uncivil acts.
6. Students are strictly advised to come in neat and decent dresses and their ID Cards pinned up. They should not wear T Shirts and Jeans during the class hours and should wear only the approved uniform. Boys should tuck in their shirts.
7. Girl Students should come only in Chudidhars with the thuppatta pinned up neatly. Sleeveless Churidhars are not allowed. Sarees are allowed for functions and special occasions.
8. Students should wear leather shoes, uniform, coat, etc., in workshop and in electrical engineering laboratories and should avoid wearing loose fitting dresses while doing workshop practicals.
9. Students are expected to read all the notices put up on the notice boards.
10. Students are prohibited from organizing or attending any meeting in the college or collecting money for any purpose without the written sanction of the Principal. Strike and similar demonstrations are not allowed. But a respectful representation of grievances will be looked into with concern.
11. Cell phones are strictly prohibited for students usage in hostels and on campus.
12. Students are expected to converse only in English during the college hours.
13. Students are expected to approach the staff adviser for guidance, clarification and advice on matters pertaining to their studies.
14. Books, Magazines or Literature not conducive to good and healthy education should not be brought to the college.
15. Disciplinary action will be taken against students involving in any kind of malpractices (cheating, copying in tests and examinations, giving false declarations etc.) in the campus or anywhere else is strictly forbidden.
16. Under the Educational Rules of the Government, Principal has full power to inflict the following punishments; fine, loss of term-certificate, suspension and expulsion from the college.
17. Once the college fee is paid it will not be refunded.

Ragging and Eve-Teasing:
1. Ragging in any form and Eve Teasing are considered to be serious Crimes.
2. Ragging is strictly prohibited by an act promulgated by the Government of Tamil Nadu with a fine up to Rs.20,000/- and 3 years rigorous imprisonment.
3. Students indulging in any form of ragging or Eve-Teasing inside the College or hostel premises or outside shall be summarily expelled from the college immediately.